"Beyond the Bench" is a podcast about the legal system produced by the North Carolina Judicial College at the UNC School of Government. It is interview-based, with guests including judges, lawyers, professors, and citizens who have participated in court proceedings. Some interviews focus on guests' personal experiences and opinions, while others explore discrete legal issues. The podcast is organized by season, with each season focused on a particular type of case. For example, season one is about criminal law, and is hosted by Jeff Welty, a member of the criminal law faculty at the School of Government and the director of the North Carolina Judicial College.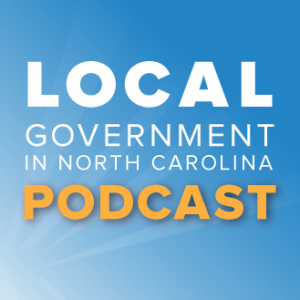 The water we drink, the streets we drive on, the police and fire protection we rely on – local governments provide these and other services every day. They set the parameters for quality of life in your community. Local Governments are close to you, but how much do you really know about how they work? What happens behind the scenes, what are everyday tasks of public officials and what you can do to shape the way your community is governed? From taxes to zoning, from waste management to equitable representation, from voters to public officials: This podcast covers the many facets of local government in North Carolina. You will hear from diverse people: public administration experts and lawyers, school children, elected and appointed public officials, students, community organizers and more. Everyone will have a different story about what local government means to them. Hear North Carolinians voice their opinions, ideas, visions, views and experiences. Stories from this podcast are not official statements by the School of Government, yet, taken together, all of them represent local government in North Carolina.
Welcome to "A Day in the Life".  This is a production of the Center for Public Leadership and Governance at School of Government at the University of North Carolina.  Each episode of "A Day in the Life" is a short podcast on the trials and tribulations newly elected local officials face each day as they serve their first year in public office. With "first meeting" guidance from incumbent officials, quick tips for sidestepping embarrassing media moments, and other advice, you'll successfully navigate the potholes of public office.
About The School of Government
The School of Government at the University of North Carolina at Chapel Hill works to improve the lives of North Carolinians by engaging in practical scholarship that helps public officials and citizens understand and improve state and local government.
Established in 1931 as the Institute of Government, the School provides educational, advisory, and research services for state and local governments. The School is also home to a nationally ranked Master of Public Administration program and specialized centers focused on community and economic development, information technology, and environmental finance.